This little known brand is almost two centuries old. Sancho Panza began in Cuba in 1848 and has weaved an intriguing story through history peppered with outstanding smokes. For some reason, many overlook this outstanding brand with incredible 90+ rated smokes. But thanks to a recent rebrand, it'll be difficult to stay away from these stogies.
A Little History
Like Romeo y Julieta, Cohiba, Montecristo and many other brands, Sancho Panza is both an American and a Cuban brand. Sancho Panza was founded in 1848 by Havana and registered by Don Emilio Ohmsted. In the 1880s, Sancho Panza was acquired by Ramon Allones and then by Rey Del Mundo Cigar Co. in 1940 before being nationalized by the Cuban Government in 1960.
Following the Cuban trade embargo, Villazon & Company registered the Sancho Panza name in America in 1981. General Cigar Company later acquired the name.
It wasn't until 2001 that the first non-cuban Sancho Panza made it to the United States market. To date, General Cigars makes Sancho Panza cigars in Honduras.
What's in the Name Sancho Panza?
Sancho Panza is certainly a mouthful in every sense of the word. It's a special name derived from the exquisite 17th Century Spanish novel named Don Quixote and written by Miguel de Cervantes.
Don Quixote was a quixotic self-appointed knight in pursuit of grandeur. Sancho Panza was Don Quixote's faithful pragmatic squire who made humorous comments about Don Quixote's life.
The New Sancho Panza
Originally blended under the watchful eye of Estelo Padron, the old Sancho Panza line consisted of softly trunk-pressed cigars rolled with Dominican, Nicaraguan, Honduran, and Connecticut tobaccos.
For the rebrand, General Cigars hired Matt Booth as the new Creative Director. This was the same time they acquired Matt Booth's cigar company; Room101. As soon as he was hired, Matt Booth embarked on a project to revive and reimagine the Sancho Panza line. In fact, Sancho Panza is the second line Matt Booth rebranded, the first was Los Statos. Speaking about the Sancho Panza line, Matt Wilson had this to say.
"Sancho Panza has always been a dependable, tried and true smoke, where the first puff is the same as the last. Cigar culture has evolved and so has the desire for dimensional smoking experiences that deliver a multitude of experiences in one cigar. With this in mind, we tapped the creative juggernaut known as Matt Booth to collaborate on the Sancho blends, and the look and feel of the brand. With Sancho, it is as important to us to respect the traditionalist as it is to embrace the modern smoker, and we feel we've ticked the boxes for both."
Matt Wilson, senior brand manager of Sancho Panza In a complete re-imagination of the Sancho Panza line, Matt Booth, Justin Andrews and HATSA came up with three new blends and three new aesthetics. We now have Sancho Panza Original, Sancho Panza Double Maduro, and Sancho Panza Extra Fuerte.
They are all medium-full bodied stogies displaying the luxurious and dependable consistency of the Sancho Panza brand. Each line comes in 3 vitolas and is packaged in 20-count boxes with the new Sancho Panza logo. The new logo is inspired by the Latin Culture of West Los Angeles.
"The re-launch of Sancho Panza marks an exciting turning point for this iconic brand. By elevating brand aesthetics, investing ourselves into the realization of intelligent blend expressions and putting the force of our ground pounders behind this brand in the streets, we are taking Sancho Panza to a new lifespan and beyond. I am extremely proud of the work that the entire team has done to bring these new expressions to life. And I look forward to witnessing the brand's newfound potential." Matt Booth
Sancho Panza: Blend and Tasting Notes
Each of the blends comes in three vitolas; however, not exactly the same sizes.
Sancho Panza Original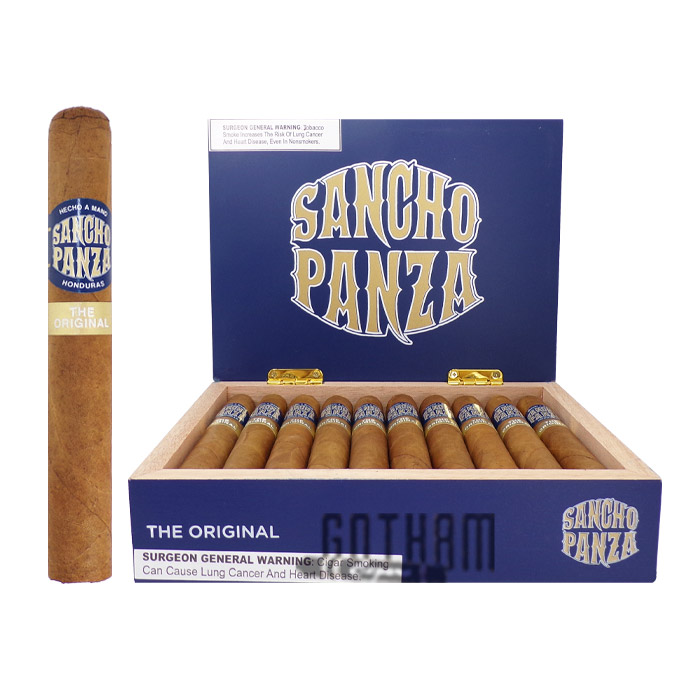 Sancho Panza Original is an exceptional five-country blend featuring Nicaraguan, Dominican, and Brazilian Mata Fina premium long fillers. Over these is a Mexican San Andres binder finished off with a Honduran Connecticut wrapper. If you love a creamy citrusy cigar with sweet and coffee notes riding on a deep nutty undercurrent, you will be right at home. If you've never had Sancho Panza Original before, I have most certainly piqued your curiosity.
Sancho Panza Original comes in three vitolas; Sancho Panza Original Robusto (5.5x50), Sancho Panza Original Toro (6.5x52), and Sancho Panza Original Gigante (6x60) retailing at between $7 and $8 a pop.
.
Sancho Panza Double Maduro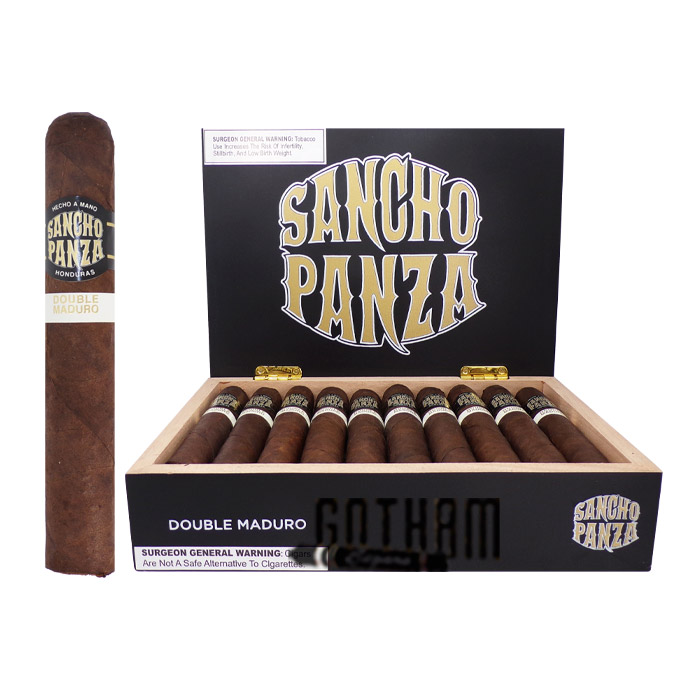 For our Maduro SOTL (Sisters of the Leaf) and BOTL (Brothers of the Leaf), we have the ample Sancho Panza Double Maduro. It's a three-country blend boasting a gorgeous dark brown Ecuadorian Sumatra wrapper encassing a Nicaraguan binder from Esteli over Dominican and Nicaraguan long fillers. The fillers are carefully chosen from a range of growing areas and primings.
Sancho Panza Double Maduro is medium to medium, dark and uninhibited, bold and complex for the ones with a robust palate. Generous notes of dark coffee, nuts, earth, leather, semi-sweet chocolate, and wood are all the rage.
It comes in three sizes namely Sancho Panza Double Maduro Robusto (5x50), Sancho Panza Double Maduro Toro (6x52), and Sancho Panza Double Maduro Gigante (6x60) retailing between $7 and $10 a stick.
Sancho Panza Extra Fuerte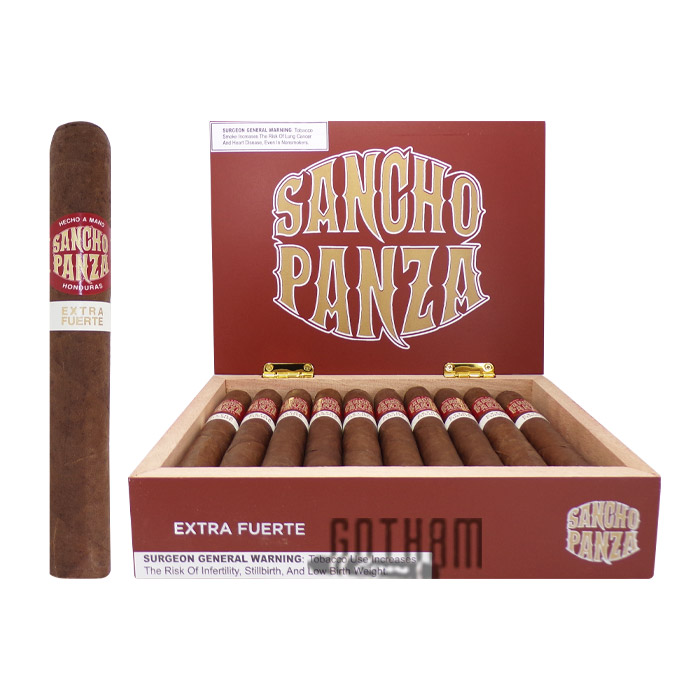 This is without a doubt the boldest of the trio. It flaunts Dominican and Nicaraguan fillers swaddled in a USA Connecticut Broadleaf binder and crowned with an Ecuadorian Sumatran wrapper. The fillers, like in the Double Maduro, are special pickings from a range of growing areas and primings.
If you are looking for a cigar to have a full conversation with, this is your guy. The "extra fuerte" will become apparent as you try to hold your own in the second half. Spice, cedar, minerals, creamy espresso, and ample dark chocolate notes will be your companions.
Sancho Panza Extra Fuerte comes in a trio; Sancho Panza Extra Fuerte Robusto (5x50), Sancho Panza Extra Fuerte Toro (6x52), and Sancho Panza Extra Fuerte Gigante (5.88x60) priced between $8 and $10 a stick.
Winding Up
If there was ever a cigar line that you shouldn't miss out on, this is it. With a range that covers every palate, Sancho Panza is bound to become a humidor mainstay for anyone who tries it.
Have you tried one yet? What was your experience? Share with us.
Recent Posts
For Flatbushers, this name must conjure warm feelings of a quaint neighborhood beautifully lined wit …

This little known brand is almost two centuries old. Sancho Panza began in Cuba in 1848 and has …

At the whisper of a new AJ Fernandez release, I know some people who would betray brother and count …