Posted by Blazing Bill on 14th Jan 2020

Cigar smoking is an expensive affair. It is not a "wham bam thank you ma'am" kind of affair either. It is a long-term loving commitment between a person and their cigars. What do I mean?
Cigars require more than just basic care. These babies are premium products that need equally premium TLC to thrive. If you are a cigar newbie, there is a lot to learn about maintaining your cigars. For starters, do not fall prey to the misconception that cigars will stay fresh as long as they remain in their original packaging. This is a blatant lie that will cost you your entire cigar collection.
Even though there are ways to store cigars without a humidor, it is only for a short period of time as you shop for a humidor. Ultimately, for cigars there is only one truth; a good humidor. A good humidor is the difference between flavorful, plump cigars and dried out prunes with burn issues. Further, without a good humidor, you may never experience the epitome of cigar aging, when all flavors mature. We call it plume.
The truth is, humidors make the cigar and a humidor is a must-have accessory for any cigar enthusiast.
Shopping for a Humidor?
If you are in the market for a humidor, then you are definitely in the right place. In our expert opinion, a humidor is a very personal possession-much like your premium cigars. You want it to hold some sentimental value and make you smile every time you go to get a smoke. Thanks to decades of cigar handling experience, our humidors are the best in the market. We took the time to craft and refine humidors that not only keep your cigars fresh but also speak to the hearts of true aficionados.
Today, we shall be discussing 5 of our most popular humidors from our Humidor Supreme collection. This is a very special line dedicated to the men and women in the military service and first responders. We wanted to honor these brave citizens who put everything on the line for our safety. Without further ado, let's get into it.
1.Humidor Supreme Blue Line PD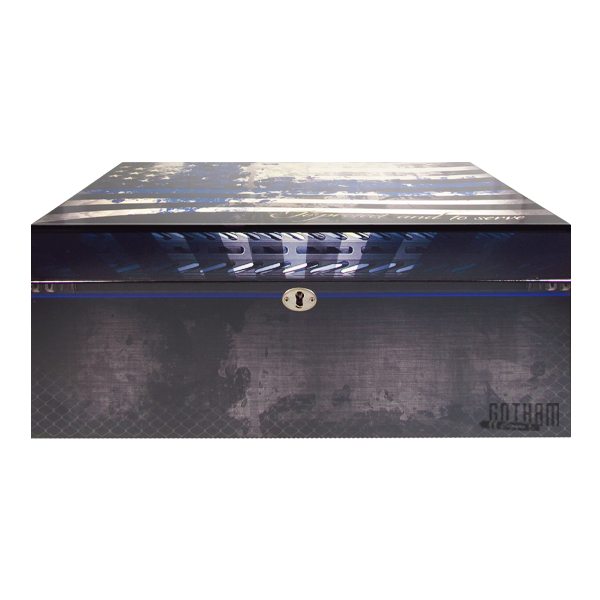 As you can probably deduce, this humidor pays homage to the men and women in the police force. The Humidor Supreme Blue Line PD is a large premium humidor. It features beautiful monochrome depictions of the American Flag on the lid against a dark background. The words "To Protect and To Serve" are elegantly embedded on the lid along with a striking splash of blue paint.
On the inside, this humidor is lined with kiln-dried Spanish cedar to keep the moisture optimal and the bugs out. Also, there is an adjustable divider and a removable cedar tray. You can store up to 100 cigars in this bad boy. Humidor Supreme Blue Line PD is the perfect gift for the men and women in the police service. You can customize it by engraving a name on the custom name plate.
2.Humidor Supreme Red Line FD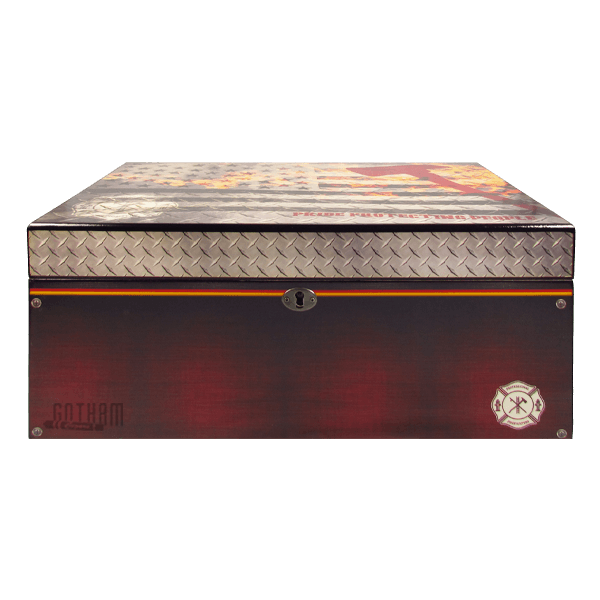 Humidor Supreme Red Line FD is a beloved hats-off to our incredibly brave fire fighters. Everything about this humidor speaks to the acuity and quiet strength of the men and women in the fire department. From the sophisticated imagery portraying the American Flag to the fire and a red hatchet with the wording "Pride Protecting People" on the lid, this humidor is truly a sight to behold.
Like its Blue Line PD counterpart, this bad boy holds up to 100 cigars in its premium kiln-dried Spanish cedar interior. It also comes with an adjustable divider and removable cedar tray as well as a lock and key. When you buy this humidor for the fire fighters in your life, be sure to engrave their name on the name plate.
3.Humidor Supreme Fighter Jet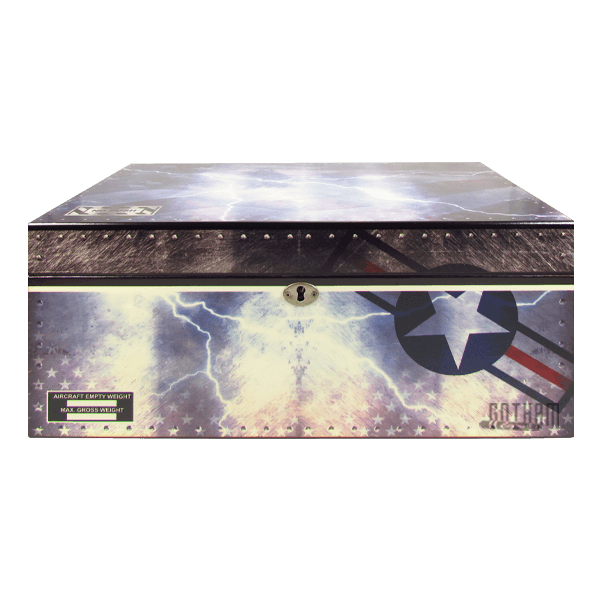 Our Humidor Supreme Fighter Jet honors our brave Air Force Pilots. Unlike the other Supreme Humidors whose artwork is predominantly on the lid, this bad boy features artwork on all the surfaces. There are conspicuous lightning bolts portrayal with an American Flag background and various other military imagery all over. The lid displays a stamp-like embed with the word "No Push" therein.
Humidor Supreme Fighter Jet is the ideal gift for the jet fighter pilots in your life. It carries up to 100 cigars in the pristine Spanish cedar interior. Other premium features include a humidifier and glass hygrometer with a brass frame, SureSeal technology, adjustable dividers, and removable cedar tray.
4.Humidor Supreme Soldier Strong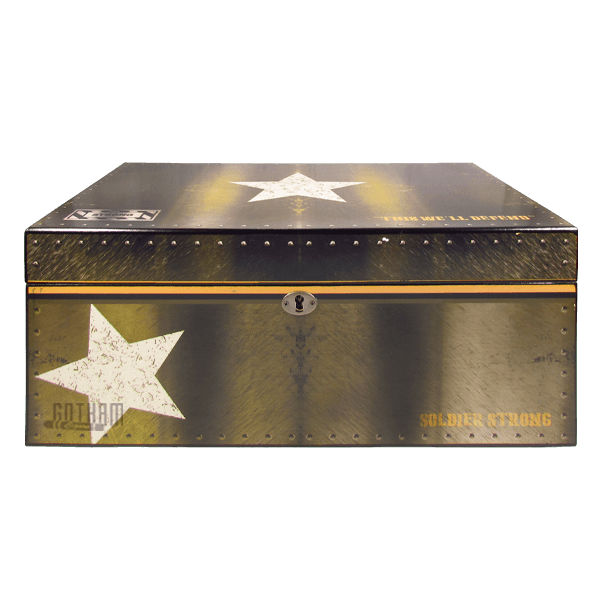 The Humidor Supreme Soldier Strong honors all the soldiers and veterans. It is a large desktop humidor that can comfortably hold up to 100 cigars. Our Soldier Strong humidor is minimalist featuring military green hues against a dark background. A captivating white star with traces of jungle green stands in the middle of the lid as well as to the right of the trunk. The lid also displays a stamp-like "Strong" on one side and the words "This We'll Defend" on the other.
Humidor Supreme Soldier Strong comes with all the bells and whistles included in the other Humidor Supreme humidors. This humidor makes an impeccable gift for the service men and women in your life. And that means both the active and retired.
5.Humidor Supreme Constitution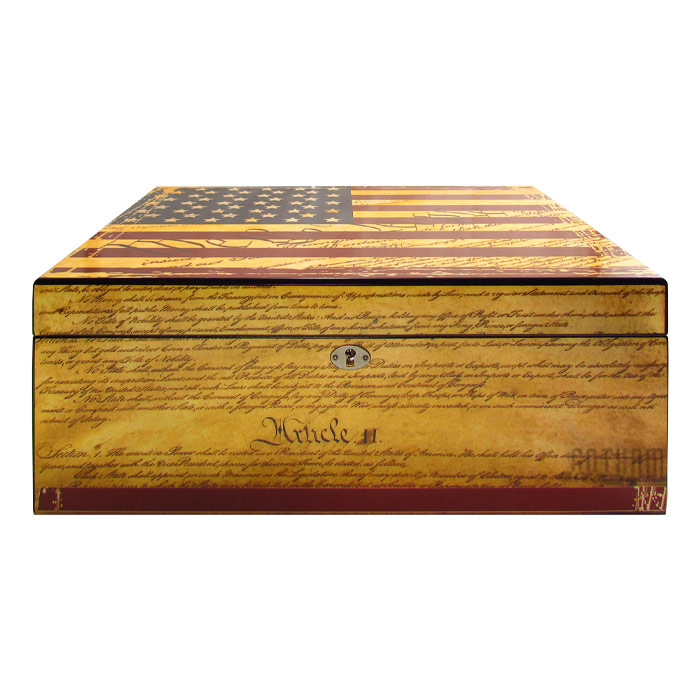 Perhaps our most beautiful humidor in the Humidor Supreme line, the Humidor Supreme Constitution is an elegant depiction of the US constitution. Adorned in the captivating calligraphic wording of the constitution against the American Flag background, the artwork is them stressed and aged to attain the perfect rustic look.
Further, this humidor is decked with all the premium features of the Humidor Supreme line including SureSeal technology, premium kiln-dried Spanish cedar interior, adjustable divider, and a removable cedar tray. It can hold up to 100 cigars with ease and makes the perfect gift for any patriot.
In a nutshell our Supreme humidors feature
Space for up to 100 cigars
Interiors lined with premium kiln-dried Spanish Cedar
Removable cedar tray and adjustable divider
Lock and key
SureSeal technology which is not only durable but ensures an Air Tight door seal
Humidifier and glass hygrometer in a brass frame
Brass plate for custom engraving
Size 17"x12"x8"
Weight 8 pounds
Cost $112.50
Final Thought
Just to reiterate, a good humidor is the most important cigar accessory. Our humidors are premium products made for the aficionado who knows their stuff. Plus, they make the ultimate gift for our beloved service men and women. Grab one today and honor someone special, even if it yourself. You deserve it!