Indulge in the essence of exotic fruits and bourbon vanilla with a stick of CAO Moontrance Corona cigars, the most popular premium cigars preferred by majority of cigar smokers. These cigars are rolled with a blend of Dominican tobacco that come imbued with intricate flavors of exotic fruits and the caramel-like essence of bourbon vanilla. They are then rounded up in Dominican binders and finally wrapped in grade one natural Cameroon leaves to give you a well-constructed product. These cigars produce a mild smoke and a distinct flavor that is hard to miss. The even burn also lets you enjoy the flavor throughout as you light them.

These premium cigars come with a length of 5 1/2 inches and have a ring gauge of 42. Packaged in smart and stylish cases to keep them fresh for longer durations of time, they come in sets of 20. Affordably priced, these cigars are your perfect companion for a nice and tranquil cigar break.
| | | | | | | |
| --- | --- | --- | --- | --- | --- | --- |
| | | | | | | |
| 5 1/2 x 42 (Corona) | Box of 20 | Cameroon | Dominican | Dominican | | Dominican Republic |
Tasting Notes
The simplicity in the name of this line does not reflect the sheer ambrosial glory of indulging in these cigars.
The CAO Flavours line features 5 cigar brands including Bella Vanilla, Eileen's Dream, CAO Solfyre, Moontrance, and Cherry Bomb.
There are also 3 retired brands from the CAO Flavours line which are Earth Nectar, Caramelo Joe, and Gold Honey. Even though these brands are retired, don't be surprised if you come across them in your favourite cigar dojo or online store.

Flavour Profiles
What sets CAO Flavour cigars apart is the quality. They all feature the delectably spicy Cameroon wrapper, a Connecticut Broadleaf binder, and premium Dominican fillers.
CAO employs neoteric technology to infuse fresh mouth-watering zing into their cigars. Flavours like vanilla, citrus, coconut, whisky, and chocolate feature prominently in this line. These, combined with premium tobacco fillers and that earthy Cameroon wrapper gives these stogies a zing that can't be beaten.
To give you a glimpse into the medley of flavours to expect from this line, here is a breakdown of each of the cigar brands and their flavour profiles.
Bella Vanilla
The name "Bella" denotes beauty which is true in this case. This stogie is a Bona Fide flavour bomb. It opens with implicit sweet vanilla so decadent and unbelievably delicious. And why not? The vanilla infused into this baby is from exotic Madagascar Vanilla beans.
Expect sweet creamy vanilla zing mellowed by a core spicy, leathery tobacco base. This cigar is not shy, the flavour is punchy and consistent, with dulcet transitions, and a fleeting finish. Surprisingly, this baby is not sweet-tipped but that would have taken away from the captivatingly delectable wrapper.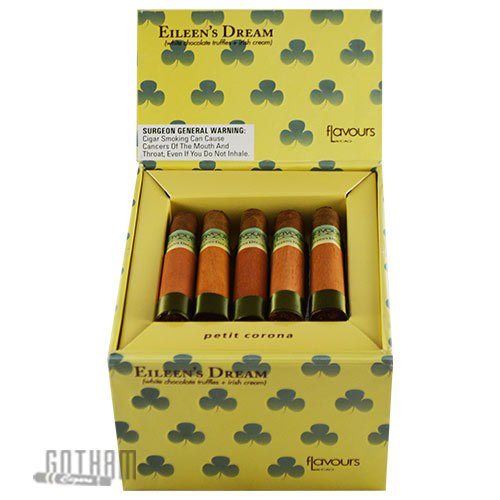 Eileen's Dream
Whoever Eileen is, she sure had a beautiful dream. This cigar is a pristine marrying of flavours you would otherwise never think to mix.
Eileen's Dream is a sublime cornucopia of sweet and spicy vanilla cream with dashes of coconut, white chocolate truffles, ground almonds, and a touch of rich Irish whiskey. You will be hard pressed to find such depth and complexity in perfect symphony.
Cherry Bomb
Cherry Bomb is the ultimate after meal dessert. Indulge your sweet tooth with this tantalizing stogie rollicking sweet maraschino cherries, notes of vanilla, a touch of creamy mocha, and bare hints of blackcurrant candy.
You will hardly notice the tobacco base in this cigar just because the other flavours are so potent. That notwithstanding, the flavour profile on this stogie is so fresh and clean. There is no artificial chemical taste, smell or any cloying flavour.
Cherry Bomb is delicate and mild with a soothing aroma and a tacit sweetness that is surreally good.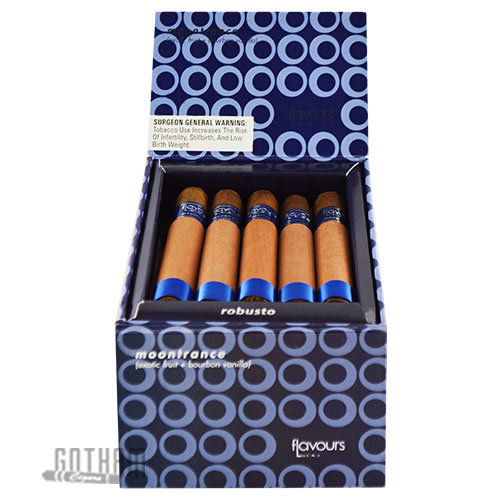 Moontrance
Moontrance is probably the most popular of the CAO Flavors cigar line. It features a Dominican and Nicaraguan filler blend that is absolutely divine.
If you are a greenhorn having this for the first time, you may need to go back for seconds because the flavour on this bad boy is spellbinding. Expect the piquant zing of delicate Georgia peaches, tropical fruit tang, and top-shelf bourbon flavours bathed in exotic Hawaiian honey.
CAO SolfyreThe aroma off this stogie is outstanding. Even though this is a mild cigar, it has some kick. You will not be overwhelmed but you will notice the strength is fairly intense.
Now here's a cigar you don't see often. The CAO Solfyre is the latest addition to the CAO Flavours line.
You better be prepared for this one because CAO Solfyre is quite literally "a match made in hell". It combines sweet spicy cinnamon with fuggy nuances of whiskey.
Don't be discouraged though, this bad boy is unbelievably flavoursome. The whisky zest is absolutely clean-like the aftertaste following a sip of good whisky. The cinnamon fires notes of red-hot zing co-mingled with hints of roasted coffee.
This bad boy is perfectly balanced, savory, and quite frankly a great change of pace from the norm.
CAO Brand Popularity
The CAO brand is synonymous with quality and innovation. Rick Rodriguez, the head Cigar Master, consistently produces top-notch cigars with a good number garnering 90+ ratings across popular review sites.
According to the CAO website, each new blend is heavily influenced by customer reviews and suggestions. Whether this is true or not, it has worked well to create a huge following of adoring consumers.
Also, CAO has gone to great lengths to ensure there is a cigar for every category of smoker. Veterans as well as greenhorns can all find a CAO cigar to enjoy.
More importantly, CAO considered the budding female market and that is what inspired the CAO Flavours line.
Why Are CAO Flavour Cigars Among the Best Flavoured Premium Cigars?
CAO has a certain standard to uphold. CAO Flavour cigars are constructed with the same care and expertise accorded to all other CAO premium smokes.
From the premium tobacco fillers, binders, and wrappers to the ingenious technology of infusing flavour into the filler, CAO spared no expense in making sure this Flavour line plays at the table of premium smokes.
To put a bow on it, CAO Flavour cigars are fairly priced. They range from $5 to $8 depending on the size and flavour.
Whether you are a novice or connoisseur, CAO Flavour cigars will suffice as a sweet little escape for the senses at the end of a long day. Afterall, isn't that what we all want?
SKU:

CAOMOOCOR

SKU:

CAOMOOCOR

Category:

Premium Cigars

Product Type:

Cigar

Manufacturer:

CAO

Brand:

CAO Moontrance

Wrapper Type:

Cameroon

Wrapper:

African Cameroon

Binder:

Dominican

Filler:

Dominican

Origin:

Dominican Republic

Ring Gauge:

42

Length:

5 1/2

Shape:

Corona

Strength:

Mild-Medium

Quantity:

20

Package Type:

Box

Rating:

N/A

Package Count:

20

Price Per Cigar:

$4.758

Gift Type:

Not Applicable

Flavored:

No

Filtered:

No

Little:

No

Groupon:

No

Discontinued:

No

Buy 1 Get 1:

No

Free Gift:

No

Free Shipping:

No

Suscribe:

No

90+ Rated:

No

Limited Edition:

No

Rare Cigar:

No

Top 25 Brand:

No

Aficionado Top 25:

No

Staff Pick:

No