Temporarily Unavailable
Opus X Fuente Fuente Magnum O is an exquisite Dominican puro made with the finest tobacco fillers draped in an extraordinary Rosado leaf wrapper. The wrapper is unique in that it is grown at the Chateau de la Fuente plantation, a region once thought to be unsuitable for growing wrapper leafs. This blend has earned the highest ratings from Cigar Aficionado and is often regarded as the pinnacle of fine cigars. Due to high demand and limited quantity of this ultra rare cigar, we can only sell four of these cigars to each customer. Opus X Fuente Fuente Magnum O is 4 3/4 x 56 and only available in packs of four cigars.
| | | | | | | |
| --- | --- | --- | --- | --- | --- | --- |
| | | | | | | |
| 4 3/4 x 56 (Robusto) | 4 Pack | Dominican | Dominican | Dominican | | Dominican Republic |

Tasting Notes
My #5 is a beautiful, tightly packed 4.8 by 40 stick. It is quite small. So, I will do the review in two sections. The wrapper is smooth, quite oily (almost sticky) with minimal veins. There are pungent notes of cedar, citrus, and spice on the shaft and foot. The triple cap is flawlessly applied. Actually, I couldn't even see the seams without gawking.
The cold draw gave off notes of earthy tobacco with a hint of sweet fruit.
First Half
My #5 opens with a peppery kick, lots of smoke output, and a rich, creamy base. The pepper is not the hot kind, but rather a warm spicy miasma with underlying cedar, leather, and rich tobacco flavors. And the finish! The finish is long, way longer than I have had in a long time. It is sweet and cedary with creamy coffee notes, fleeting baking spice notes (or was it cinnamon), and a robust tobacco and leather base.
This cigar is complex! The flavors don't just stick out or starkly transition from one to the other. Instead, they wash over your palate with wave after wave of different notes blended into one beautiful profile. The smoke is thick, chewy, and aromatic. It smells like cedar and flowers. The ash is a tightly packed white and light-grey combo that held up to 2 inches.
Final Half
On the halfway mark, the creamy profile thickened. Also, the strength went up from a medium in the first half to full. I can feel the nicotine in my head though it's not the kind that knocks you upside the head. The pepper recedes to the back while earth, leather, spice, and sweet tobacco dominate the palate. Still, the finish is quite long with very thick creamy coffee notes and spice lingering until the next draw.
Towards the nub, the strength kicks up a notch. The flavor profile remains the same. And by the same, I mean thoroughly complex and enjoyable. Mine was a one-hour smoke. I know, right? It is a real slow burner and very satisfying. You may want to eat first before taking on this little stogie, or your knees will buckle halfway down the smoke.
Overall Review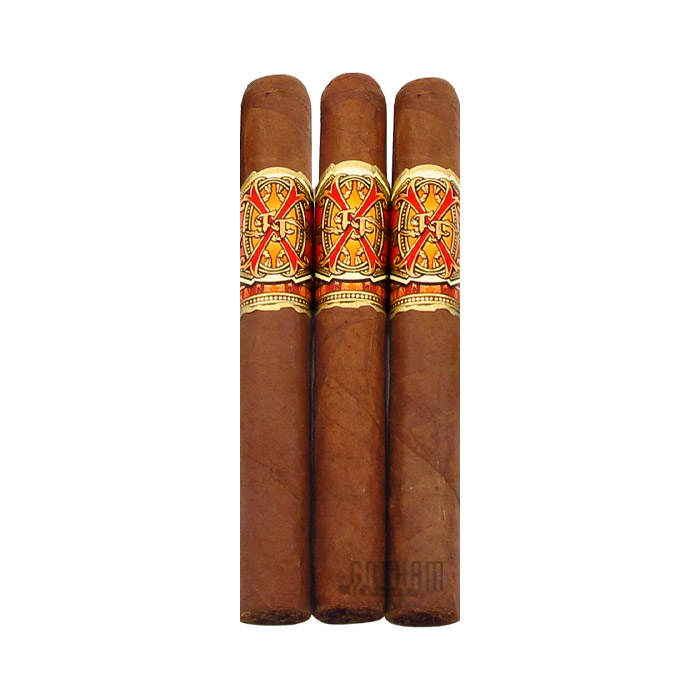 The Opus X cigars are definitely worth the hype. Even though opinions vary, we can all agree this is a complex smoke that is excellently constructed and executed. I have to point out, though, that you may not enjoy this cigar as much when it's new. Aging these babies adds tons of complexity and mellows out the pepper and spice.
The result is a mature and captivating warm cedar-infused cinnamon comingled with leather, coffee bean, nutmeg, cocoa, and a myriad of other amazing flavors. Also, be sure to grab these whenever they are in stock. Opus X cigars are notoriously rare, mainly because only about 700,000 of these babies go into the market every year.
SKU:

OPMAG4

SKU:

OPMAG4

Category:

Premium Cigars

Product Type:

Cigar

Manufacturer:

Arturo Fuente

Brand:

Opus X

Wrapper Type:

Dominican

Wrapper:

Dominican

Binder:

Dominican

Filler:

Dominican

Origin:

Dominican Republic

Ring Gauge:

56

Length:

4 3/4

Shape:

Robusto

Strength:

Full

Quantity:

4

Package Type:

Pack

Rating:

91

Package Count:

4

Price Per Cigar:

$19.9875

Gift Type:

Wedding

Flavored:

No

Filtered:

No

Little:

No

Groupon:

No

Discontinued:

No

Buy 1 Get 1:

No

Free Gift:

No

Free Shipping:

No

Suscribe:

No

90+ Rated:

Yes

Limited Edition:

No

Rare Cigar:

Yes

Top 25 Brand:

No

Aficionado Top 25:

No

Staff Pick:

No