Rocky Patel Sixty Robusto was released in the summer of 2021 to celebrate the man himself, Rocky Patel's 60th birthday and his passion for creating extraordinary cigars. To celebrate, he chose a rich blend of Nicaraguan long filler tobaccos and a gorgeous, dark and oily Mexican San Andres leaf wrapper. The final hand rolled cigar is then box pressed to perfection and was aged for two years. Rocky Patel Sixty Robusto is a 5 1/2 x 50, medium bodied smoke available in attractive red lacquer boxes of 20 cigars.
| | | | | | | |
| --- | --- | --- | --- | --- | --- | --- |
| | | | | | | |
| 5 1/2 x 50 (Robusto) | Box of 20 | Mexican San Andres | Nicaragua | Nicaragua | | Nicaragua |
Rocky Patel is big on anniversaries. We have enjoyed quite a number of exquisite anniversary releases over the years. Rocky Patel not only releases special occasion cigars for the anniversaries of his company but also for his big birthdays. Some of the memorable birthday releases include Rocky Patel II-XXVI, Rocky Patel 50, 1961, and Rocky Patel Fifty-Five. By now, I hope you know where I am going with this. 2021 was Rocky Patel's 60th year and so he debuted Sixty by Rocky Patel.
Sixty by Rocky Patel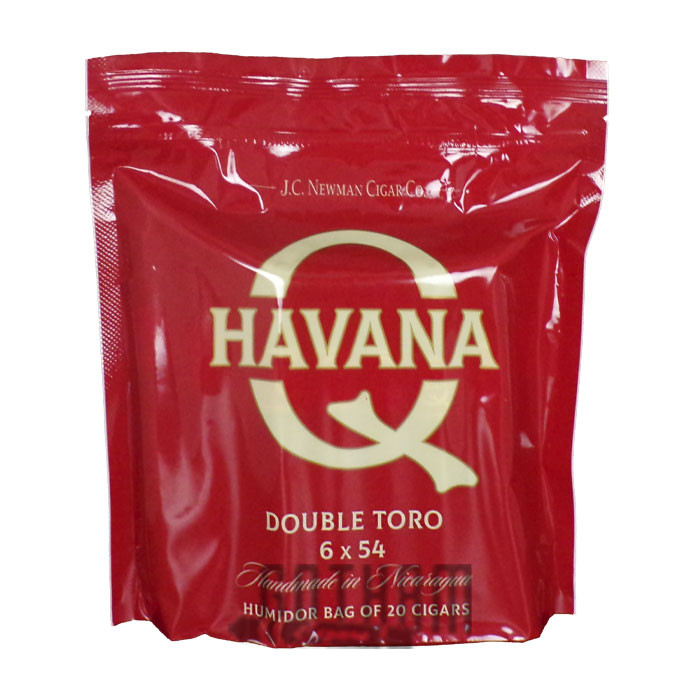 Like all Rocky Patel cigars, the Sixty is crafted with a vehement attention to detail. It highlights exquisite, hand-picked Nicaraguan fillers and binder aged at least 6 years. A delicate, dark-tan Mexican San Andres leaf rounds-up this cigar. After the rolling, Rocky ages these babies a further 2 years before box-pressing and shipping. All this happens at Rocky Patel's own Tabacalera Villa Cuba S.A. (TAVICUSA) in Esteli Nicaragua.
Rocky Patel Sixty which is a medium to full offing, debuted at the Premium Cigar Association (PCA) Convention & Trade Show held in Las Vegas between 10th and 13th July 2021. It is offered in 3 main sizes; Toro (6.5x52), Sixty (6x60), and Robusto (5.5x50). There was a fourth size, a Half Corona (3.5x46) which was set to be released to the European market before end of 2021. You can grab a 20-count box or choose 100 Rocky Patel Toro offered in a humidor for an MSRP of $2500.
Quality comes with age, and after 60 years of life, Rocky Patel's passion for premium cigars has never been more refined. To celebrate his unbridled love for signature cigars, and in honor of this momentous occasion, we're proud to present… The Rocky Patel Sixty. Featuring a smooth, well balanced smoke and a sophisticated profile that can only be achieved through years of experience, the Sixty by Rocky Patel is a reminder that when it comes to passion – age is just a number. These are Rocky Patel's sentiments expressed on the inside of the box.
Tasting Notes
Truth be told, I am a huge Rocky Patel fan. I love bold cigars that grab you by the hair and waterboard you with spice and nicotine. But that's just me. So, going into this, I'm already watering at the mouth. I'll be taking up the Sixty size for this review. It's a bigger vitola than I usually go with but then again; it's a new year!
Prelight
Sixty by Rocky Patel is adorned with 3 bands. There's one near the head, another in the middle, and a huge aesthetic one depicting a scene from a tobacco farm hemmed with a royal blue strip with 60 written in huge gold numbers and covering the entire lower 1/3 of the cigar.
After divesting the cigar, I get a chance to really examine the wrapper. Men, this is a beautiful box press. It's neither smooth nor rough, it's a delicate balance between velvet and grit. Fine flat veins transverse the dark, fairly even-toned wrapper. It's a solid cigar, no give side to side but a little buoyancy cap to foot.
The shaft gives off whiffs of oak, wet earth, and tacit dark chocolate notes. Cold draw reveals a snug draw divulging chocolate notes, subtle grass, wet earth, and fleeting baking spice.
First Third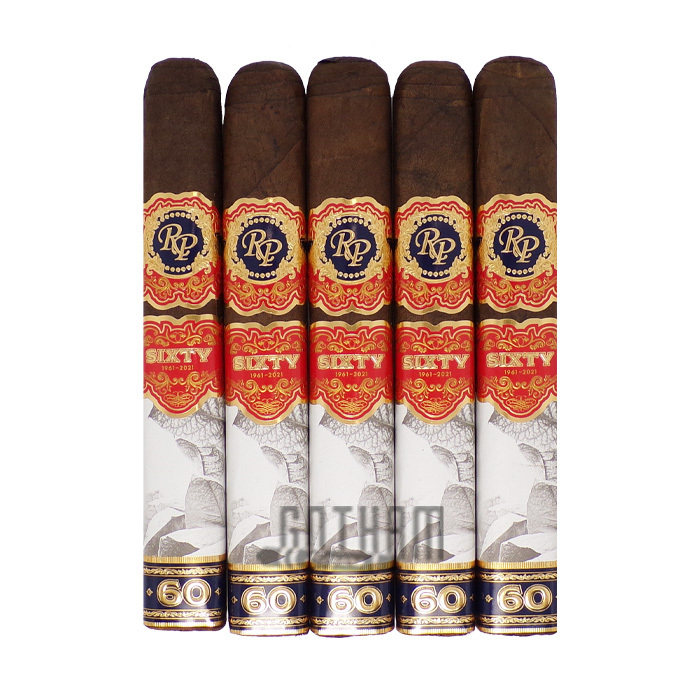 My Sixty Sixty (see what I did there?) presents bold sweetness waltzing with buttery cream, nuts, and bitter chocolate notes. Immediately the smoke hit the back of my throat, a sensational black pepper heat began to emanate.
Sweetness sashays into the Retrohale hauling sharp oak notes and hinted leather. The burn is impeccable. Surges of sweet smelling smoke surround me. In my mouth, the smoke has a chewy caramel-like burnt sugar character with a woodsy undertone. The draw is still snug but then again, the burn is slow. I've no issues with the ash; it's solid, not flaky.
Approaching the end of the first third, the pepper shifts gears. It's now closer to the front of the palate and it's also gone from black pepper to red pepper flakes. There's a distinct tingle on my palate. That notwithstanding, a lush sweet disposition continues to layer my taste buds. Dark chocolate, dashes of vanilla, salted caramel, and a buttery toast savor hold down the fort.
Retrohale is coated with creamy notes amidst wet earth and black pepper heat. Strength is at weak medium and the body is inching towards full.
Mid Third
I actually noticed I am in the mid third when the flavors gradually matured. Cherry wood notes fraternizing with musty earth, espresso, toasted bread, almonds, and red pepper flakes take over the front of the palate.
Sweetness is delegated to the back together with the creamy undertones and salted caramel. The smoke gets denser and sort of dry. There's an uncanny balance between the smoke in my mouth and the one on the Retrohale. In Retrohale, sweet vanilla notes and baking spice waft through my nose offsetting the cotton mouth temperament.
Strength inches to a solid medium maybe closer to full with a resounding nicotine kick. I am a happy person. This is a great smoke.
Final Third
The final third announces itself with a shift to full body. An inconspicuous long finish catches my eye; I believe because a decadent smoked meat savor barges in. Charred oak pitches a tent at the back of the palate entwined with cinnamon-garnished brown sugar.
Dark chocolate, espresso, almonds, and a dark bready tang dance all over the place. Everything just seems to get a little more potent towards the nub. My Sixty by Rocky Patel lives up to every expectation I placed on it. It's been a little over 2 hours; what a cigar!
Final Thoughts
I am careful to say that this is not a cigar for every palate. It's bold and unapologetic so it's just one of those things that either works for you or not. However, for the palate that can take it; it's gloriously aristocratic and worth every penny. Are you a Rocky Patel fan? Have you had the Sixty? What was it like? Which other Rocky Patels do you like? Share your thoughts with us.
SKU:

RP60ROB

Category:

Premium Cigars

Brand:

Rocky Patel

Wrapper:

Mexican San Andres

Binder:

Nicaragua

Filler:

Nicaragua

Origin:

Nicaragua

Ring Gauge:

50

Length:

5 1/2

Shape:

Robusto

Strength:

Medium

Quantity:

20