Bella Artes by AJ Fernandez Short Churchill is a slightly box pressed beauty, handmade in the Fernandez factory in Nicaragua. Boasting a unique blend of fillers from three regions in Nicaragua, viso leaves from Brazil, and leaves from Honduras with a Havana '92 binder from the Quilali region of Nicaragua. What makes this cigar so special is the "Rojita" hybrid wrapper, an incredible blend of Corojo '99, Connecticut Shade and Havana 2000 tobaccos. You will experience complex notes of white pepper, cinnamon, buttery cream and orange peel in this medium to full-bodied smoke. The Bella Artes by AJ Fernandez Short Churchill is 6 x 48 and available in boxes of 20.
| | | | | | | |
| --- | --- | --- | --- | --- | --- | --- |
| | | | | | | |
| 6 x 48 (Short Churchill) | Box of 20 | Nicaraguan Hybrid | Nicaragua | Nicaragua, Honduras, Brazil | | Nicaragua |

Tasting Notes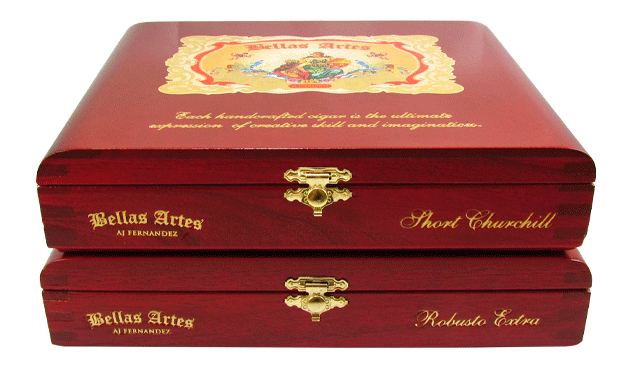 Bellas Artes Nicaraguan Hybrid is a complex, elegant cigar created purely for the enchantment of cigar aficionados. It is a fusion of region-specific tobacco never before unleashed.
This medium to full strength stunner rocks premium long fillers from Nicaragua, Honduras, and Brazil. The binder is a Quilali leaf while the wrapper is an AJ Fernandez Hybrid Rojita.
Now, if this cigar is unknown to you, the binder and wrapper are a bit of an enigma.
Don't fret.
I will do you a solid and break down these proprietary blends so you can understand exactly why this cigar is so special.
1) Fillers
As earlier stated, Bellas Artes Nicaraguan Hybrid has Nicaraguan, Honduran, and Brazilian long fillers.
The Nicaraguan filler is a blend of Esteli, Condega, and Jalapa leaves. This is the predominant filler. The Honduran long fillers are Jamastran leaves while the Brazilian fillers feature the Marta Norte leaf.
To add complexity, AJ Fernandez chose Marta Norte Viso tobacco for its sublime sweetness and high nicotine content. Just to clarify, the Viso leaf is the upper-middle section of the tobacco plant.
2) Binder
Bellas Artes Nicaraguan Hybrid carries a Quilali binder. Again, this is a proprietary blended seed featuring a
Havana '92 leaf grown in Quilali, Nicaragua. Quilali is one of the oldest tobacco-growing areas in Nicaragua. It is North-East of Esteli and legendary for growing black tobacco since the 1800s.
3) Wrapper
The Bellas Artes Nicaraguan Hybrid wrapper is the prima ballerina of this stogie. It is dubbed the AJ Fernandez Hybrid Rojita and here is why.
The AJ Hybrid Rojita is a cross-pollination of US Connecticut Shade 8212, a Corojo '99, and Havana 2000. This blend is intricately balanced with the Connecticut coming in at 50% while the Corojo and Havana split the difference.
As you can see, this exquisite masterpiece is Nicaraguan at the core but with the venerable AJ Fernandez ingenuity.
Each of the tobacco blends in the cigar were aged for a minimum of 3 years and handmade at the Tabacalera AJ Fernandez Cigars de Nicaragua factory in Esteli.
The Bellas Artes Nicaraguan Hybrid was released in 4 Vitolas; Short Churchill (6x48), Robusto Extra (5x52), Toro (6x54), and Gordo (6.5x60).
Bellas Artes Nicaraguan Hybrid Review
At this point, you must be positively giddy wondering how this bad boy smoked. I know I was.
For this review, I went with a Robusto Extra.
Prelight
This stogie is truly a smasher. It has a gentle Spanish box-press that is classic and aristocratic.
The construction is firm with a uniformed give-think papier-mâché. There are no soft spots or knots and the wrapper is a silky-smooth nutty brown, like toasted caramel.
Seams are tight and flawless and the veins, while visible, are absolutely flat to the touch. It has a large double cap immaculately applied.
A whiff of the wrapper reveals notes of dry hay, cedar, subtle fruit tang, and cocoa. Cold draw gave up auras of earth, cinnamon, white pepper, sweet tobacco, and shy cedary notes.
However, the draw was slightly airy but nothing too drastic.

First Third
At the risk of sounding redundant, this stick is an unadulterated pepper bomb, right from the first draw.
There are predominant cayenne and black pepper notes on the front of my palate and at the back of my throat. But this is no surprise; AJ Fernandez likes to start his cigars with a Bona Fide kick.
Pepper aside, there are intricate flavors of dry wood, vanilla, honey, nuts, and a dessert-like sweetness. Smoke output is phenomenal and the burn is excellent.
A few draws in, and I begin to really feel the strength kick in. For a medium to full strength stogie, this bad boy delivers a beat-down. The strength is definitely a strong medium bordering on full, but typical AJ Fernandez cigars are complex that way.
This strength, accentuated by the pepper, will mellow as I progress.
Middle Third
True to the signature AJ Fernandez flare, my Robusto Extra mellows down on the pepper as well as the strength. The flavour settles on sweet black pepper and a touch of baking spice.
Even though there are no actual transitions, I notice creamy dark chocolate nuances fused with cedar, earth, nuts, espresso, and fleeting leather on the finish.
Retrohale delivers hues of toasted caramel, pepper, a bit of citrus tang, and lingering crème brulee dessert sweetness. The smoke is creamy and powdery but not dry or harsh.
I noticed my burn line was not exactly razor sharp but it held on quite well. The ash was sturdy, falling off in thirds.
Final Third
As earlier stated, this cigar is not about transitions. But the flavour is complex and consistent. If anything, the different flavors swap intensity which keeps the cigar interesting all through.
My final third is all about a kick in pepper, spice, and sweetness. The strength remained a strong medium.
There is a sublime orangey tang on the long finish. Chocolate and espresso take a bit of a break while liquorish, cream, nuts, and char hold down the fort.
The Retrohale is all pepper and spice with tons of sweet premium tobacco and leather.
But wait, this stogie isn't done yet!
The nub presents a phenomenal finish of sweet mocha, caramel, cedar, liquorish, and creamed nuts. There is no pepper or spice and the flavour combo is quite a superlative way to end a magnificent smoke.
Mine was an hour and a half of cigar bliss.