Ashton Esquire Cigars are now one of the most popular high end cigar brands on the market by Ashton Cigars Family. Ashton Esquire Cigars are known for their exquisite rich flavor packed in a small size. The construction of Ashton Esquire Cigars permits a nice smoky draw with a burn that is perfect from start to finish. These mild, smooth smokes feature Dominican fillers and a premium aged Connecticut shade wrapper forming a balanced smoke that is mild and creamy. Their small size makes them perfect for short breaks. You will discover delectable notes of almond, coffee bean, cocoa, and cream. Ashton Esquire cigars are 4 1/4 x 32 with 10 cigars packed in 10 easy to travel with tins so you can protect these luxurious smokes anywhere you go.
| | | | | | | |
| --- | --- | --- | --- | --- | --- | --- |
| | | | | | | |
| 4 1/4 x 32 | 10 Tins of 10 | USA/Connecticut | Dominican | Dominican | | Dominican Republic |

Tasting Notes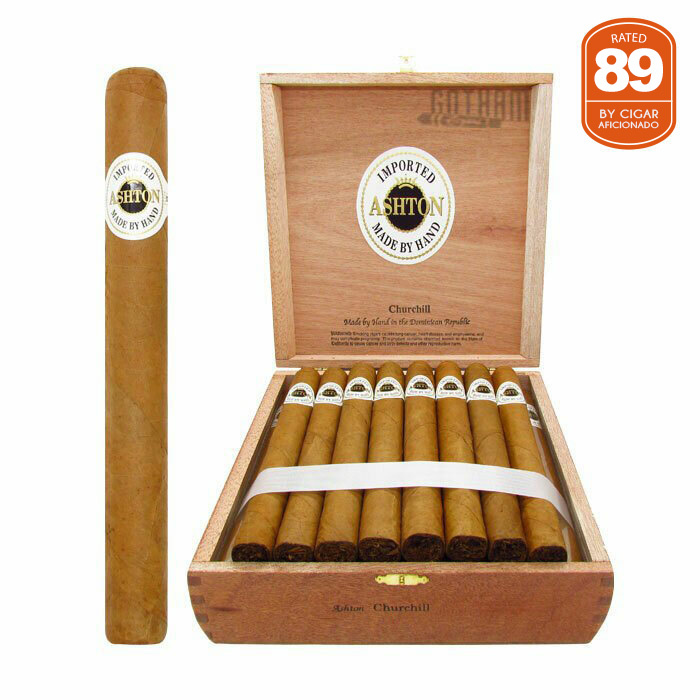 I've been deliberate in pointing out that Ashton Classic has been in the market for a long time. I should also mention that it is sold in over 60 countries across the world. Just why is this cigar so popular? Ashton Classic is a decadent mellow bodied blend of Dominican premium fillers and binder. These leaves are aged at least 3 to 4 years before being rolled. The wrapper, as earlier alluded is a US-grown Connecticut Shade leaf from the Connecticut River Valley. After rolling, these Ashton Classics are then aged in cedar chambers for an additional 6 months. The result, as you will soon find out in the tasting notes is a superbly balance stogie. In fact, this is the best first time cigar.

It is mild enough strength-wise while brimming with flavor. Ashton Classic comes in a total of 16 sizes including glass cases and tubos. Vitolas include Cordial (5x30), Magnum (5x50), Corona (5.5x44), Panatela (6x36),Crystal Belicoso (6x49), Double Magnum (6x50), Majesty (6x56), Monarch (6x50),898 (6.5x44), Crystal No.1 (6.5x44), Prime Minister (6.875x48), Sovereign (6.75x55),and Churchill (7.5x52) Without further a do, let's get into the review.
Prelight
For a cigar that has been around for close to four decades, every review is a testament to consistency. I'll be going with a Churchill for this review. My Churchill is a tall flawless golden blonde tower of sweet smelling tobacco. Sweet cedar notes with underlying nutty nuances waft off the shaft.
It's a smooth silky shaft with barely visible flat veins and well done seams. There's a shiny sheen on the stick and no soft spots. Cold draw conveys light nuts, grass, graham cracker, and implicit cedar. The draw is the perfect milkshake consistency.
First Third
A Churchill is a massive cigar. I will definitely enjoy this more than usual. My Ashton Classic opens with lots of warm creamy nutty notes. Some pepper is present to balance the pleasant warm ambience. Yet it's not really pepper but more of a sweet spice that tastes more like nutmeg (perhaps because of the nutty profile already present).Sweet cedar comingles with the nutty creamy notes to add to the smooth transition.

Shy hay notes come into the picture followed closely by a basic earth tone at the very end. The finish is long and deliciously winding. This cigar deserves every compliment it's accumulated over the years. It's always in total control of it's own transitions; taking you on a leisurely flavor cruise. The burn and ash are beyond perfect. I'm in my happy place.
Mid Third
Here's how to know you're in the mid third; the nutty sweetness intensifies. Sweet espresso joins the symphony. Hay notes, though still mild, sashay in the background. Sweetness seems to have increased too. The spice is the perfect balance to bring it all together. I can't stop obsessing about the finish. Smoke outlines of hay, cedar, sweet spice, vanilla, coffee, nuts, cinnamon, and nutmeg remain on the palate until the next draw. The cream is lulling my palate like a sweet lullaby. I haven't spoken about the delicate billows of aromatic smoke all around me. At this point, I can't tell if I'm smoking this baby too fast or if I'm taking too long between draws; I've entered a realm of perfect enjoyment. Hazelnut nuances, graham cracker sweetness, cinnamon, roasted almonds, cappuccino, vanilla, and creamy sweetness usher me into the final third. I can barely feel the nicotine and yet I'm not jittery; what a cigar!
Final Third
In the final third, cedar jumps to the front of the palate but is still enveloped in tons of creamy sweetness. There's a new flavor and that is cloves. It's more of a subtle but distinct zing on the tip of my tongue. Leather also joins the exquisite camaraderie of flavor notes accosting my palate. Loads of sweet creamy mocha, coffee, cinnamon, spice, cedar, earth, and a little peppery heat dominate the last draws of this incredible smoke. As I put my nub down, I recommit myself to a lifetime of Ashton Classics. It was an absolutely satisfying experience.
Final Words
After all these years, I am now convinced that even if you pick up an Ashton Classic in the next decade, it will be like the one I just smoked. And now you know why Ashton is perennially among the Top 3 most sought after cigars in the US. If you've never had an Ashton Classic, I will just go ahead and assume you're a newbie to which I will say; Go Now.
SKU:

ASHESQ

Category:

Premium Cigars

Brand:

Ashton

Wrapper:

Connecticut Broadleaf

Binder:

Dominican

Filler:

Dominican

Origin:

Dominican Republic

Ring Gauge:

32

Length:

4 1/2

Shape:

Cigarillo

Strength:

Mild

Quantity:

10 Tins of 10

Package Type:

Tin